Right now both kids are in gymnastics classes.  Sarah has been going at 11:05 on Mondays, but we are in the process of moving her up a level, so it will be a new time very soon. When I mentioned to her the idea of switching classes and the chance that she might have a different teacher, I thought she would protest, because her teacher is awesome.  In true Sarah fashion (meaning, proving me wrong) she said she wanted a new teacher and could not wait to switch.  This all happened before Christmas, so I didn't end up switching her right away.  She spent December asking about her new class.  Then we went to a Christmas party that the gymnastics center hosted and Sarah spent the whole time finding and hugging her teacher, who is also named Sarah.  Since then she has been way excited about Miss Sarah.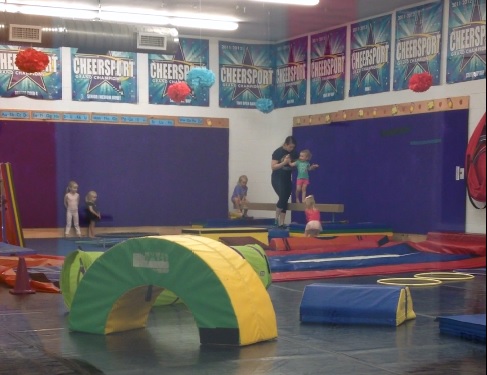 I finally got around to picking a new time slot (none of them were as ideal as the Monday at 11:05.)  On Tuesday we did a trial of a new class.  The teacher was one she knew and liked because the teacher is at the studio at the same time as Sarah's current class.  I liked it because it was the only class at the studio at that time, meaning I could actually park in the parking lot, and I had a nice conversation with the other moms in the class.  Well, Sarah comes out of the class and tells the teacher that she doesn't want to switch because she wants to be in Miss Sarah's class.  The teacher said she understood because Miss Sarah is her best friend.  Luckily Miss Sarah does teach the level we are trying to switch into, unfortunately for me the time isn't as convenient.  Hopefully we will be able to try out that class this coming week.
Ted's class is on Tuesday nights.  I somehow manage to forget this class every Tuesday night.  Luckily Pat always remembers.  The studio is super crowded during Ted's class. There are three other classes happening at the same time.  We watch the kids through a big glass window from the waiting area into the gym.  During Ted's class there is a dance class of teenagers that perform right in front of the glass and frequently block our view of Ted.  The teens also like to lounge up against the glass, as though there wasn't a room full of grown ups staring in (it is regular glass, so they can definitely see us.)  Because the waiting room is so crowded and it is hard to get glimpses of Ted anyway, Sarah and I usually stay home and Pat takes Ted to class.  Ted really loves the class and is excited to go. I am glad that he is working on his strength and coordination.